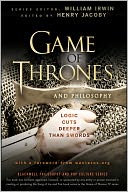 First off, this is not directly related to the Song of Ice and Fire book series or the television series. That being said, the various authors use the book and television series to explore issues of philosophy. With the disclaimer that I do not have an extensive background in philosophy, I found this to be an entertaining (re)introduction to the subject. Over the course of twenty chapters, the various authors tackle topics like the search for happiness, whether one should be good or moral even if one has absolute (or nearly absolute) power, feminism, living an authentic life, idealism, fatalism and more. For those who are fans of the books and television series, this is a really fun read as the authors interpret and explore the characters and their actions. For those who are not familiar with the series, this might be less fun but it is still a worthwhile exploration of philosophy and life.
This is not a book that one must read from beginning to end. It is made for jumping around from chapter to chapter. I, however, was hooked from page one. Some of my favorite chapters were Maester Hobbes Goes to King's Landing, Playing the Game of Thrones: Some Lessons from Machiavelli, "You Know Nothing, Jon Snow": Epistemic Humility Beyond the Wall, No One Dances the Water Dance, The Death of Lord Stark: The Perils of Idealism and It Would be a Mercy: Choosing Life or Death in Westeros and Beyond the Narrow Sea.
This is part of the Blackwell Philosophy and Pop Culture Series. Other entries in this series I've enjoyed are True Blood and Philosophy and Batman and Philosophy.