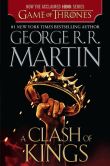 A Clash of Kings
is the second book in George R.R. Martin's
A Song of Ice and Fire
series. I read
A Game of Thrones
(the first book in the series) over a year ago and loved it. At 900 plus pages it took awhile before I found the time to get around to this second book. I'm glad I finally did. Compared to the first book,
Clash
was slow to start and didn't really pick up till about two-thirds of the way through.
Game of Thrones
ended with multiple people claiming the right to be king and the first sighting of dragons in many decades.
Clash
begins with the would be kings ready to go to war against one another but not actually going anywhere just yet and the dragons not doing much of anything. I suppose Robb Stark is the exception since we're told that he is winning various battles somewhere but since he isn't a point-of-view character in this volume whatever was going on with him did not add to the action. The other exception is Arya whose story was interesting and constantly moving forward from start to finish. She was one of my favorite characters in the first book and continues to remain so.
One of the best aspects of this series is the way Martin tells the story through multiple characters, with the chapters alternating among the points-of-view of a subset of characters. Somehow the tone is consistent even though the point-of-view characters vary in age and background. Aside from seeing the story through different character's eyes, I liked this technique because I knew that even when I grew bored with one part of the story, another character's story would grab me again.
It wasn't until about two-thirds of the way through the book that things picked up, but even though
Clash
moved slowly, I am eager to find out what is next in store for the people of the seven kingdoms (and beyond), especially to Arya, Jon Snow, Tyrion, Bran, and even Sansa. (I couldn't stand Sansa in the first book but I'm warming up to her.) Hopefully it won't take a year before I get to the next book.