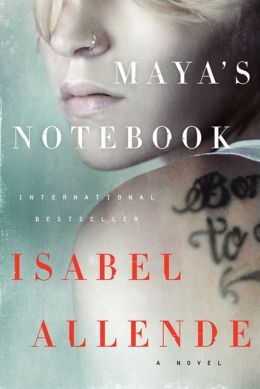 One of the things I love to do at bookstores (and one reason why I try to buy most of my books at physical stores rather than online) is to walk among the shelves from A to Z and see what sparks my interest. I can, and have, spent hours doing this. I distinctly remember being at a Borders store several years ago and gazing at Isabel Allende's row of books. Prolific authors intrigue me and her books took up one-and-a-half rows. However, though my interest was piqued, I didn't pick up one of Allende's books that day.
Through
Goodreads
I came across
Maya's Notebook
I can't remember what it was that originally attracted my attention. Maybe it was the partially obscured face of a woman on the cover, looking over her tattooed shoulder, set against a haunting greenish-blue-gray background. Maybe it was the synopsis describing the story as one about a young woman whose life had gone off the rails, and a cast of characters that includes a torture survivor, a lame dog, and a gang of assassins. I don't know, but whatever it was, I am ever so glad that I have been introduced to the work of Isabel Allende.
The plot is fairly simple. Maya has been raised by her grandparents, Nini and Popo. Nini fled Pinochet's regime in Chile and came to the United States via Canada with her young son (Maya's father). Popo is an African-American astronomer professor who perhaps more than anyone is the calming, steady influence so needed in Maya's life, given her parents' decision that they don't really want to be parents. Maya is just fine with this and grows up in a colorful house in Berkeley. All is well until her beloved Popo succombs to cancer. After that Maya finds her days filled with of drugs and violence.
The novel opens with Maya's arrival in Chile, where her grandmother has sent her to escape her enemies and the FBI. It alternates between Chile and everything that came before. Nini gives the notebook to Maya to keep her company in this country that is foreign to her granddaughter, telling her, "You're going to have time to get bored, Maya. Take advantage of it write down the monumental stupidities you've committed, see if you can come to grips with them[.]"
This is not a sad story. Even with passages about rape, torture, and life under a military coup, it is somehow hopeful. Ultimately I suppose the story is about survival and even thriving after having surviving very bad things. It is about facing up to one's past, the good and especially the bad, dealing with it and moving forward. If the copy I read were not a library book, I would have marked up the pages with underlining and tabs. From the first page I was mesmerized by Allende's lyrical writing. I can't quite put my finger on it, but something about this story grabbed me right away. It felt like having a friend tell me her story as we sat at a table drinking coffee.
I would highly recommend this book. As mentioned above, this is the first book by Isabel Allende that I've read. I am looking forward to reading more of her work. Soon there may be a row on my bookshelf dedicated to Ms. Allende.