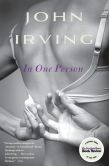 There are a handful of writers whose work I aim to read all of during my lifetime. One of these writers is John Irving. I first discovered Irving by watching tv. I was what used to be called a latch key kid and spent a lot of time at home alone watching tv, reading books, and writing. One afternoon either
The World According to Garp
or
The Hotel New Hampshire
- I can't remember which I saw first - came on tv. Upon learning these movies where based on books I started reading John Irving and have been a fan ever since. It was with a great degree of anticipation that I picked up his latest,
In One Person
. Unfortunately, I did not love this book, but I admire John Irving for writing it.
At the center of
In One Person
is William (Billy) Abbott, who grows up in a small Vermont town with his delicate mother, disapproving aunt, cross-dressing grandfather, and a host of other curious characters. Long story short, Billy is bisexual. Unlike many of his friends, Billy is honest about his sexual preferences, something that doesn't sit well with a lot of people.
Although Billy is the protagonist of the story, I'm not sure it is really about him. It is a more of a fictionalized history of gender and sexuality in America from the 1950s to the mid-2000s. Billy starts out as an adolescent with a speech impediment, crushes on the "wrong people," and an interest in both making out with a girl and wearing her clothes. Over time he comes into his own as a writer and as a bisexual man. He watches many of his friends die of AIDS. He witnesses the growing acceptance of what he likes to refer to as sexual differences as evidenced in part by the proliferation of LGBT groups on school campuses. He even sees a few of his friends be able to marry their partner.
Billy is a witness to a great many changes over his seventy or so years. That was my biggest problem with the book. Billy is a witness or observer, but he doesn't really seem apart of any of it. He doesn't seem emotionally invested. For the first half of the novel I wondered why I wasn't enjoying it more and the word that kept coming to mind was passive, as in the narration seemed really passive and muted. Billy is telling the story of his life even he didn't seem that interested. The story did pick up in the second half but it wasn't quite enough to redeem the whole book.
For those who haven't read Irving before, I would not recommend starting with this one. He's written thirteen novels, eight of which I've read, including this one. My favorite is
A Widow for One Year.
A Prayer for Owen Meany
(which I haven't yet read) seems to show up as many people's favorites so that may be another one to try. In any case, don't start here but work your way to this one. Even though not my favorite, it was worth the read.