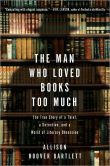 The True Story of a Thief, a Detective, and a World of Literary Obsession
In
The Man Who Loved Books Too Much
author Allison Hoover Bartlett recounts the exploits of John Gilkey, an unrepentant book thief, and the people, like Ken Sanders, who try to stop him. I picked up this book to fulfill the true crime requirement for the Literary Explorations Genre Challenge I'm doing this year. I thought I hit the jackpot when I came across this book (Yea, a true crime story that didn't involve a dead body!), but I didn't connect with this book as I expected. It was written well enough, that wasn't the problem.
One thing I realized in reading this is that while I collect books, I am not a Book Collector. I own hundreds of book and love being around books. When traveling to new places, my itinerary often includes visits to local bookstores or libraries. I fully understand the the pleasure of holding a book in one's hand. I appreciate books the craftsmanship and the artistry that went into creating the object, But ultimately, I loved to read. Alas, this is what separates me from Book Collectors. I'm glad there are people out there who are working to preserve first editions and other books for posterity but for my own purposes, a copy bought at my local Barnes & Noble will do just fine.
In addition to finding it difficult to relate to Book Collectors, I also found it difficult to relate to (or care about) John Gilkey, which is problematic since the story is mostly about him. Gilkey aspires to create a grand, personal library. Bartlett posits that Gilkey aspires to not only present the image of a "cultured gentleman" but to become that gentleman. Wanting to better one's self is understandable and even admirable. In this light Gilkey could be the protagonist in a Horatio Alger story, except for one problem, he's a thief.
According to Bartlett, Gilkey's justification for stealing books from rare book dealers, many of whom appear to be small businesses, and libraries is that the world is unfair to him and this is his way of evening the score. Rare books are expensive and dealers act unfairly when they sell books at a price he cannot afford (though one gets the sense that even if he could afford them he would still steal). If a salesperson wasn't as prompt or polite as he expected, that store deserves to be stolen from. Gilkey reasoned that when he stole books, often by using credit card numbers he stole while employed at a department store, the stores he stole from had insurance that would cover the costs, so no harm no foul. That insurance might not cover everything, assuming the book store even has insurance, that a person might prefer the book to the money, or that people just don't like it when people take their stuff without payment or permission, just didn't seem to occur or matter to him. It was infuriating to read repeatedly about Gilkey justified his thieving.
The other main character in this story is Ken Sanders, who once served as the security chair for the Antiquarian Booksellers' Association of America. It was Ken who connected the dots behind a series of book thefts in Northern California. His diligence and perseverance in protecting himself and others like him from the likes of Gilkey is admirable.