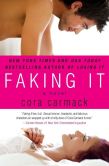 Faking It
is a new adult (I'm still getting used to the idea of this genre) romance centering around Max and Cade. Max is a struggling musician with a body covered in tattoos and piercings. When her parents unexpectedly come to town Max covers up her tattoos, tames her hair into a respectable shape, and enlist the clean cut Cade to pretend to be her boyfriend to satisfy her judgmental parents. Several years earlier max lost her sister in an accident. Mourning a sister, juggling jobs while trying to make it as a rock star, and trying to appease picky parents has left Max with trust and intimacy issues. Cade is the Cade from
Losing It
(the first book in this series) who fell in love with his best friend Bliss only to find that she was in love with someone else. His mother died when he was young and his father abandoned him, leaving him to be raised by his grandmother. Between losing his parents and losing Bliss, Cade has abandonment issues. When Max and Cade meet, or rather collide, the connection is immediate. They are drawn together like magnets, but with all their issues they repel each other almost as quickly.
This is a romance novel so the ending is not a surprise, but the journey there is pretty sweet. I really fell in love with these characters. They were believable and understandable. They had real issues to overcome. I am looking forward to reading the next entry in the series,
Finding It
. This is a definite recommend for all the romantics.