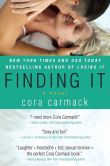 It's February so I had to read at least romance. For that I chose Cora Carmack's
Finding It
. This is the third in a series, the first two books being
Losing It
and
Faking It
. With each book in the series the plot got a little more serious. In
Losing It
Bliss panics during a one night stand in which she was hoping to give her v-card and is stunned when the guy she walked out on the night before shows up in her class the next day. In
Faking
It Max convinces nice boy Cade to pretend to be her boyfriend in front of her judgmental parents. In
Finding It
, with no plans for her future and a dark secret, Kelsey hopes to lose herself in a sea of alcohol and sex with strangers while backpacking across Europe. She isn't happy but she's very good at faking it. Enter mysterious ex-soldier, Jackson Hunt. He seems perfect, handsome and funny. He also seems immune to Kelsey's charms but Kelsey likes a challenge.
It isn't immediately clear what Jackson sees in Kelsey as she stumbles from bar to bar, stopping just long enough to throw up in the street or makeout with another new guy. What is clear is that he is also hiding something, and he hides it well, behind a wall of chivalry and charm. He takes care of Kelsey as she stumbles into trouble again and again.
This is a romance so there's no mystery as to how it ends. What's important is the road there, and I very much enjoyed the journey. Kelsey and Jackson each have heart wrenching pasts to deal with. They are both good at masking their pain and neither is particularly good at communicating but they both desperately want to talk to the other. Their path to each other is slow and frustrating but so worth the read and the wait.
Also recommended: