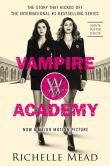 Earlier this year there was a lot of buzz surrounding the movie version of Vampire Academy, the first book in Richelle Mead's series that goes by the same name. I impulsively bought the entire series as I generally prefer to read a story before watching it, but didn't get around to reading any of the books until now. (I do that constantly - buy books and then not read them until months or even years later. It is a habit I am trying to break.) My last two reads were long, heavy, and left me exhausted. What I needed was something light, frothy, and fun before diving into another big book. (There are several big books I hope to get through before the end of the year.) Looking through my to-be-read pile, Vampire Academy sounded like it would do nicely.
The world of Vampire Academy is populated by Moroi, Strigoi and Dhampirs.

Moroi are living vampires who drink blood but who generally try to not kill their victims.

Dhampirs are the half-human, half-vampire protectors of the Moroi.

Strigoi are fully dead, evil vampires who try to kill everyone else.

I'm not sure if they have any other goals beyond that.

Anyway, Rose and Lissa are students at St. Vladimir's, a boarding school in Montana attended Moroi and Dhampir children.
Lissa, a Moroi, is a vampire princess and the last of her family.

Rose is her best friend and future protector, or guardian, in training.

When we first meet them Lissa and Rose have run away from school and Dimitri, a Dhampir guardian and Vladimir teacher, has been sent to bring them back.

Rose and Lissa ran away because it wasn't safe at school and they're not sure it is any safer when they return.

Now in addition to dealing with the trials and tribulations of high school, Rose and Lissa have to figure out how to protect themselves from whomever or whatever is after them.
Vampire Academy was an ideal palette cleanser, so to speak.

It was fun and entertaining.

One of the strongest aspects of the book is the strong friendship between Rose and Lissa.

They are both strong and caring albeit in different ways.

Rose takes her future role as Lissa's guardian seriously and repeatedly puts her friend's welfare ahead of her own, even when it means endangering her own reputation or even her life.

Lissa also takes care of Rose in her own way.

Although overall I was describe Vampire Academy as frothy and light its characters did confront serious issues like depression, cutting, and when to ask for help. The one thing that bugged me was the constant slut shaming.

I'm not sure yet what Mead is aiming at here.

She doesn't quite seem to be taking a stand against it.
Overall this was a fun read, and right now I am craving fun in my reading. There are six books in this series and I may just read them all in a row.