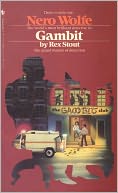 In the early 2000s there was a show on A&E called
A Nero Wolfe Mystery
(or sometimes just,
Nero Wolfe
) starring Maury Chaykin and Timothy Hutton. I was a loyal watcher of the show, not only for the acting and writing, but also because of the general look of the show. The costumes and sets were amazing. The show also had an usual set up in that while the main characters and the actors playing them stayed the same from week to week, the rest of the cast played a different character each week depending on the particular story. Although I was born long after the days when there was no tv and everyone listened to the radio, but watching the show often made me imagine what it would have been like to sit around the living room listening to a radio play. Somehow the show seemed nostalgic and old-fashioned (in a good way) but sleek and modern at the same time. In any case, it was through the tv show that I was introduced to Rex Stout, who wrote something like thirty-three novels and numerous short stories and novellas starring his famous private detectives, Nero Wolfe (played by Chaykin in the series) and Archie Goodwin (played by Hutton).
Admittedly, the books in the series vary in quality. The real attraction of the series are the characters. The two main characters are in some ways a study of opposites. There's the cerebral, eccentric, Sherlock Holmes-like Nero Wolfe who is remembered as much for his intellect as his rotund size, the four hours a day he spends tending to his orchids (from 9 to 11 am and again from 4 to 6 pm), his gourmet appetites, his general preference not to be around women, and his even greater preference not to have to leave the confines of his home to the extent possible. Playing opposite Wolfe is his assistant, Archie Goodwin, the younger, fitter, street smart detective who does most of the legwork (since Wolfe rarely leaves the house) and who in is his free time often find himself in the company of one young woman or another. He is the narrator in the Wolfe stories but make no mistake, Goodwin is no Watson. He is a man of action, with a near perfect memory, and a sixth-sense about people. Together and operating out of their (or really Wolfe's) New York brownstone on West 35th Street, they solve mysteries of all sorts. Rounding out the cast of characters are Fritz, the live-in Swiss born chef who prepares Wolfe and Goodwin's gourmet meals; Theodore Horstmann, Wolfe's orchid expert; and Saul Panzer, Fred Durkin and Orrie Cather, three detectives ready to assist when called upon. There's also Inspector Cramer who has a fondness for chewing the ends of cigars but rarely smokes them, and his assistant, Sergeant Purley Stebbins.
I often pick up one of Rex Stout's mysteries when I need something quick, light and entertaining. This time I chose Gambit. The novel takes its title from a chess move in which a player sacrifices a pawn or other chess piece in hopes of gaining an advantage. Here, the victim is murdered while playing chess. There is a bet that he can win while playing multiple games against multiple opponents without even seeing the chessboards. He is kept in one room and his opponents in another, while messengers travel between rooms telling the soon-to-be-victim what moves his opponents have made and awaiting instructions as to how to respond. Before he is able to prove his supposed chess superiority, the chess player is poisoned. Thus, the mystery begins with Wolfe and Goodwin on the case.
I can't say Gambit was my favorite entry in the Nero Wolfe series, but I did enjoy it. Much of the time the detectives find themselves with a theory that proves to be half-right, no evidence, and few leads to get them going. Around the last thirty pages or so there's a big hint as to the identity of the murder and then everything gets wrapped up pretty quickly. There was a lot of Goodwin and Wolfe, but not much of the other regular cast of characters which made the story a little less exciting. But then again, I wanted something quick and light and this served that purpose and I would still recommend giving Stout's Nero Wolfe series a try, and would also recommend the excellent A&E television series.