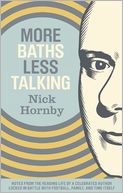 More Baths Less Talking
is a collection of Nick Hornby's columns from the magazine The Believer. This is the fourth collection of his columns, covering the period from May 2010 to December 2011. Each column begins with a list of the books he acquired that month and what books he actually read. Like many people, or at least like me, Hornby's book buying is often more ambitions than time allows, resulting in the first list usually being longer than the second.
I loved this collection. It isn't just a collection of book reviews. Hornby writes about books, reading and life, and well, just all of it. It's funny, so funny that I smiled, chuckled and laughed, even while I was reading on the bus. I couldn't help it. As an added bonus I got a few suggestions for future reading adventures.
In addition to Hornby's collections of his Believer columns, I'm also fan of his fiction writing.
About a Boy
is my favorite, closely followed by
High Fidelity
, both of which were made into movies that I also enjoyed. It's hard to go wrong with a Hornby book. Pick one up and you're unlikely to be disappointed.
Earlier collections of Hornby's Believer columns
The Polysyllabic Spree
Housekeeping vs. the Dirt
Shakespeare Wrote for Money
Also recommended
About a Boy
High Fidelity
Juliet, Naked
Slam