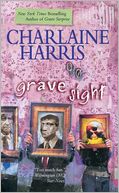 Grave Sight
is the first in the Harper Connelly series by Charlaine Harris, the author behind the Southern Vampire/ Sookie Stackhouse series. In this series there are no supernatural beings, but that isn't to say that Harper Connelly isn't special. After being struck by lightening Harper found she had a gift for finding dead bodies and seeing how they died - not who killed them or why, but physically how. She and her stepbrother Tolliver travel around finding bodies for a fee, along the way solving a murder or two or three.
The novel opens with Harper and Tolliver in a small town called Sarne. Harper has been hired to locate the body of Teenie Hopkins, a teenage girl who disappeared months earlier, around the time her boyfriend Dell's body was found in the woods. The assumption is that Dell killed Teenie then himself, but Harper casts doubt on what previously people were fairly certain about and some are not happy about that. Even though she was hired to find Teenie no one in Sarne really wants Harper there. Some people think her gift is evil and others believe she and her brother are taking advantage of people, but they can't ignore the fact the results of her gift.
This was a quick and easy read; good but not great. Maybe it isn't fair but I couldn't help but compare this to the Southern Vampire series. Like Sookie Stackhouse, Harper Connelly has a gift that tends to freak people out. Both had troubling childhoods. In every novel either Sookie or someone she cares about finds themselves in a life threatening situation. Bon Temps with all its vampires, werewolves, fairies and ordinary humans is a violent one. Yet somehow the Southern Vampire series is also funny and thought provoking. Sookie manages to stay upbeat and positive usually. She's also smart, resourceful and though she doesn't have super strength, she's strong.
In contrast, Harper, her brother Tolliver, and the world they inhabit is much more solemn. Most of the time Harper seems to be either panicking, about to faint, or angry. I alternated between being mildly annoyed by her and mildly sympathetic. In any case the feeling was always mild - she just wasn't that compelling of a character. But to be fair, this was the first entry in this series so perhaps Harper's character will come together more in later novels. I can get past the solemn (even depressing) nature of the book, so long as the overall story is compelling. The plot here wasn't that interesting but knowing Harris's other work I would be willing to give the next entry in this series a try.