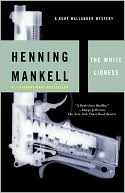 Henning Mankell does not write ordinary mysteries. There is always a bigger picture, sometimes international in scope.
The White Lioness
is no exception. It begins with the execution style murder of an ordinary woman in Sweden. She is a wife, a mother of two young daughters, a real estate agent, and a frequent church goer. Nothing about her life explains why someone would execute her. As Mankell's conflicted somewhat depressed detective Kurt Wallander tries to find her killer, a half a world way in South Africa, a secret committee is plotting to assassinate Nelson Mandela. As crazy as it sounds the story works and it all comes together.
Wallander himself is the best part of the story. I read somewhere about how detectives in mystery novels are always these solitary characters with disastrous personal lives and perhaps a drug or alcohol problem. Wallander definitely fits that description. He is divorced and has strained relationships with his daughter and with his own father. He drinks too much and on his best day seems mildly depressed. Although he chose to become a detective and does work that he values, it is a job that affects him deeply and brings him great sadness. When the body of the woman in this story is found murdered Wallander seems to mourn her almost as much as her family does.
My only criticism was that at times it seemed a little like the Keystone Kops were investigating the case. For instance, Wallander visits the apartment of a couple who he suspects has been providing shelter to a man connected to the murder investigation. Instead of calling his colleagues a letting them know straight away so they can stake out the apartment and catch the suspect when he returns to the apartment, Wallander decides to go have lunch with his daughter. By the time he and his colleagues return to the apartment the next morning, surprise, the suspect and the couple have come and gone. Later Wallander sends a two-page telex to his counterparts in South Africa. Due to technical problems and human error only one page makes it through. Everyone who reads the one page telex comments that its ending was odd and abrupt but it occurs to no one that there may have been a second page. No one calls Wallander to check if there was more information he could add. But this is a minor problem, and perhaps it shouldn't even be seen as a problem as these foibles help to humanize the characters. Overall I greatly enjoyed the book. Mankell handled the different viewpoints of multiple characters really well, including the villains. In the end the various subplots came together in a believable manner. I look forward to reading the next entry in the Kurt Wallander series.