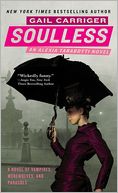 There's something about steampunk that's intriguing. New to this genre, I picked up
Soulless
because it appears on several steampunk book lists. Plus I loved the cover. Soulless was not quite what I expected. It had elements of steampunk, but most of all it was a paranormal romance full of vampires, werewolves and a preternatural. The female half of the romance takes the form of Alexia Tarabotti. A few pertinent facts about Miss Tarabotti. She's half Italian which in this world means she a little too smart, a little too spirited and a little too olive skinned. She is 26-years-old and unmarried, and therefore a spinster of which her mother and sisters are somewhat embarrassed. Lastly, she is a preternatural, meaning she has no soul.
I am not new to the various mythologies of werewolves and vampires, but preternatural beings were new for me. Along with having no soul, Miss Tarabotti's preternatural status allows her to neutralize supernatural beings. All she has to do is touch a vampire or werewolf and he or she becomes human. The effect is temporary, only lasting as long as there is physical contact between Miss Tarabotti and the supernatural being.
The not having soul thing kind of stumped me. It was explained that most humans had an adequate amount of soul. Vampires, werewolves, and ghosts were said to have so much soul that they refused to completely die, hence their immortal status. Not every human could survive the transformation from human to supernatural, only those with a little extra soul could make the journey. This was not enough of an explanation for me. I wanted Carriger to explain a bit more about what having or not having a soul really meant. I mean Miss Tarabotti is intelligent, witty, and fashionable. She is not mean spirited or ill tempered. She is quite fond of tea and treacle tarts. In fact, aside from her ability to touch a vampire and cause his/her fangs to retract or a werewolf and cause him/her to be unable to transform, there doesn't seem to much that sets Miss Tarbotti apart from other beings, which leads to the question, what does it mean to not have a soul?
Notwithstanding the lack of Miss Tarabotti's soul,
Soulless
was a pleasant enough romance. It was a bit slow to start but picked up toward the end. I was hoping for more mystery but got romance instead. As for the romance, the banter between Miss Tarbotti and her beau was charming. I am not sure how representative
Soulless
if of the steampunk genre, but I am interested in reading more steampunk.