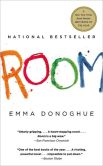 When I first heard about
Room
I was scared off by the subject matter—a woman is kidnapped and held captive in a shed for seven years. During those seven years she becomes pregnant and gives birth to a son named Jack.
Room
came out not too long after there were a few big stories in the news about real women who had been held captive for several years. This story seemed too real and too recent so I shied away from
Room
. Then I listened to a discussion of the book on Slate's Audio Book Club, and though the subject matter still turned me off I was intrigued.
The entire story is told from five-year-old Jack's point of view. Jack was born in the shed (or rather the room) and has never known anything other than the room. It is his whole world. His mother has worked hard to create a safe world for him, a world where they sleep, eat, learn, and play. He doesn't quite understand why his mother doesn't love the room as much as he does. I was worried about a story written entirely from a five-year-old's point of view would turn out, but it worked. Jack is smart, but not annoyingly so. Somehow Emma Donoghue manages to convey the mother's desperation and fear, while at the same time showing the wonder of the world as only a child can see it, all through Jack's voice.
I'm so glad I picked up this book. It is amazing. If not for work and other life matters, I would have finished it in a matter of hours. I actually knew many of the plot twists before picking up the book from listening to the podcast and yet I was on the edge of my seat waiting to see what was going to happen next. This is one of the best books I've come across in awhile. Definitely recommend.