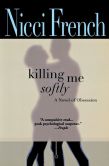 Killing Me Softly is an intense psychological thriller.
It all starts with Alice. Alice Loudon has a pretty great life. She has a job that she likes and is good at. She has friends, good friends that she spends time with often. Alice's best friend is her boyfriend's sister. Speaking of which, Alice has a great boyfriend called Jake. They live together. They haven't exactly said it out loud yet but eventually they'll probably get married, have 2.5 kids and a dog. Alice's life is on track for a happy ever after ending, or as close as one can expect to get. That all changes when she meets Adam Tallis.
Alice and Adam meet randomly on a London street. The attraction is instantaneous. They end up in bed together so quickly, it is almost comedic. At first Alice feels guilty about her indiscretion and vows never to see Adam again. She goes back to Jake and their perfect life together, but it's no use. Adam is a famous mountaineer who has scaled a bunch of mountains and has been hailed as a hero after saving a bunch of people who nearly died trying to scale one such mountain. Everyone who meets Adam seems to fall under some sort of spell. People—men and women—can't help but adore him. Even Alice's seemingly perfect and fulfilling life cannot save her from Adam's intoxicating presence. It isn't long before Alice leaves Jake and marries Adam.
The full title of title of this book is
Killing Me Softly: A Novel of Obsession
. Alice and Adam are indeed obsessed with each other. Adam's obsession is possessive and hurtful. He repeated tells Alice that he doesn't want to injure her, he just wants to hurt her. Nevertheless, Alice is hopelessly in love with her husband. Adam adores her and Alice loves that. She loves the attention. She loves feeling so very wanted.
Alice's obsession starts out more innocently. She simply wants to know everything about her new husband, his past, his adventures in the mountains, his family, his friends, basically who he is when he is not with her. They relationship got so intense and so serious so quickly that they skipped over the getting to know and like each other stage of their relationship. Adam, however, is of the opinion that nothing matters except his and Alice's life in the present. He tells his wife that they are the kind of the people who don't care about each other's lives outside their house. This does not work for Alice, who starts trying to learn all she can about her husband's past. Her understandable desire to get to know the man she married turns into an obsession with finding out all she can about the women Adam dated before her. It's here that the novel takes a very dark turn as Alice finds out some things she probably would have liked to have never known. Digging into her husband's past forces Alice to think about just what kind of man it is she married and what that means for her future.
Killing Me Softly grabbed me from page one and didn't let go.
The relationship between Alice and Adam is passionate, but twisted. Adam's reticence to talk about his past seems evasive. Alice's investigation into her husband's past seems intrusive. They clearly both have issues to deal with, but it isn't clear at first which one of them is to be trusted. It was fun figuring that out. I would definitely recommend this book for people who like mysteries and thrillers, especially those who like a little romantic suspense (if you can call it that) thrown in.
Fun fact,
Killing Me Softly
was made into a movie in 2002 starring Heather Graham and Joseph Fiennes.