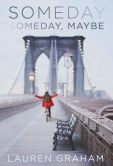 I have never quite understood terms like "beach read" or "summer read" because my reading choices are generally not determined by the seasons or the weather. Further, when I go on vacation I like to bring one big, involved book (plus a second book because having backup book is necessary) rather than short, uncomplicated stories since if I planned the vacation I will likely plenty of uninterrupted reading time. Notwithstanding my lack of a proper understanding of what a beach or summer read is, I imagine
Someday, Someday, Maybe
might be what people mean when they use those terms.
Someday, Someday, Maybe
is the debut novel of actress Lauren Graham. The story centers around an aspiring actress in New York named Frances (Franny) Banks. She has given herself three years, the length of time it will take her college boyfriend to finish law school, to make it as an actress. At the start of the novel, Franny is six months away from her self-imposed deadline and has no agent or acting jobs on the horizon.
One of the things I liked is that the story doesn't end with everything wrapped up in a nice bow. For every step forward, there seems to be a step or two backward, professionally and romantically. She learns life lessons, forgets them, relearns them, kind of gets it, and slowly moves forward. It is a light, funny, and quick read that I thoroughly enjoyed.
P.S. I can totally see this being made into a movie, at least a television movie.