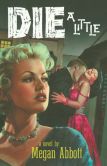 It's 1950s Los Angeles with housewives who make jello with fruit in copper molds and housewives who pop pills. There are Hollywood starlets and Hollywood fixers. There's a schoolteacher, a cop, and women with secrets.
The women with secrets in
Die a Little
are Lora and Alice. Alice comes into Lora's life when she literally crashes into Bill, Lora's brother. In short order Bill and Alice are married. Lora is a schoolteacher and Bill is a junior investigator for the district attorney's office. Alice is like nothing and no one the siblings have either met before. She's beautiful and glamorous, having worked for a Hollywood studio. She seamlessly makes the transition from Hollywood to housewife, preparing extravagant meals and throwing dinner parties like the perfect 1950s housewife as seen on tv. But cleaning and cooking aren't enough to contain Alice's boundless energy, so Alice begins teaching home economics at Lora's school. Lora and Alice carpool together, go shopping together and soon, just as Bill has gained a new wife, Lora had gained a new sister. The more time Lora and Alice spend together, the more Lora begins to suspect that something isn't quite right with her sister-in-law. Alice has a lot of strange friends and even more secrets, and Lora is determined to uncover those secrets and protect her brother.
Why are so few of Megan Abbott's books available at my local bookstore? Seriously, I don't understand it. Earlier this year I read
Dare Me
and was blown away. Expecting a quick read about cheerleaders and mean girls in high school, instead I got a psychological sports thriller. One book and I was a fan of Ms. Abbott and began looking into her backlist. Shockingly, none of her books were available at my local bookstore. Luckily they are available online.
The first book off the backlist that I picked was
Die a Little
, a noir thriller. Granted this is only the second of Ms. Abbott's books that I've read but based on this small sample it appears that Ms. Abbott specializes in noir thriller with strong female characters. It's like Ms. Abbott is channeling Raymond Chandler or Dashiell Hammett only the female characters are more than femme fatales or sweet virgins who exist simply to tempt men one way or another. In Ms. Abbott's books women take center stage.
Ms. Abbott has a way of sneaking up on a reader and surprising them. Early in the story there are details about what one might call feminine life - details about recipes, clothing, and parties. But it is all facade (much of the way the whole perfect 1950s housewife is). Recipes give way to heartbroken housewives who turn to medicinal concoctions to cope. Men who have been raised to save the damsel in distress find themselves making compromises. People turn out to be complicated and messy.
Die a Little
is short book - just under 250 pages - but this small volume packs a punch. She is definitely an author whose career I will continue to follow.