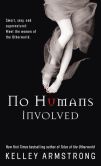 No Humans Involved
is book 7 in Kelley Armstrong's Women of Otherworld series. In this installment Jaime Vegas takes center stage. Jaime is a necromancer who can communicate with ghosts and even raise the dead. She makes a living communicating with the dead for grieving relatives of the deceased. She's not a con artist who goes after grieving widows and steals their life savings or anything like that. She does host live shows where she talks to the dead and tries to give closure and comfort to the living.
She makes a pretty good living, but the big bucks are in TV so Jaime's goal is to get her own TV show. First step - a television special with two other spiritualists where they each will try to raise the ghost of Marilyn Monroe and finally solve the mystery of her death. If all goes well, Jaime just might get the TV deal she's been hoping for. While the TV special is being taped, the three spiritualists and the television crew are housed in a Brentwood home. Before they find Marilyn, Jaime discovers the ghosts of children trapped in the Brentwood home. The ghosts cannot seem to move on as they are supposed to. Jaime must help them.
No Humans Involved
is a paranormal mystery with some romance added in. They mystery of the trapped ghosts was good but I especially liked the romance. In this installment the werewolf alpha Jeremy Danvers and Jaime finally start to come together. They have been dancing around each other for awhile now. Or rather, Jaime has been dancing around. Jeremy is so reserved it is difficult to ever know what he's thinking or what he wants, especially for a non-werewolf like Jaime. Finally, Jeremy begins to let his guard down and let Jaime in. I hope there are more stories in the series involving the two of them.
I really liked this book. In past books and in the beginning of this one Jaime has been the one who constantly gets captured and kidnapped. Finally, in this story she starts to come into her power and find where her strengths lie. Very glad I read this.