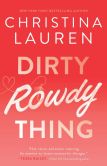 It started as a drunken Vegas fling. Then it was meant to be a distraction and nothing more, but despite their best intentions, more is what it became.
Dirty Rowdy Thing
is the second in the Wild Seasons series, which began with
Sweet Filthy Boy
. In the earlier book three girl friends celebrating their college graduation met three boy friends in Las Vegas. There were many shots, an ill thought out trip to a wedding chapel, three weddings, and the next day in the sober light of day, two annulments. The first book centered on Mia and Ansel, who were the only two of the six to stay married.
Dirty Rowdy Thing
is Harlow and Canadian Finn's story. (Each of the boys hailed from a different country: France, Canada, and Australia).
With Harlow and Finn there was instant chemistry, but they both recognized Vegas for what it was, a drunken fling. At the end of the day they parted ways, Harlow went back to California and Finn went back to Canada. Since they have friends in common they end up seeing each other more than perhaps either expected to. Months after Vegas, there is still chemistry but there is also real life and both have pressing problems to concern them. For Harlow it is an illness in her family; for Finn it is his family's business problems. Both need a temporary distraction and each believes they have found the perfect person for just that. And that's how it start, as a distraction. Then it evolves into much more and neither is quite prepared.
Dirty Rowdy Thing
is a steamy hot, fun, good read. I especially liked how well the characters were written. This is not the kind of romance story where the only thing of importance is finding a boyfriend or girlfriend. Both have families, friends, and jobs to contend with. The relationship between Harlow and Finn is just one part of their respective lives. Each make good and bad decisions for good and bad reasons, and they take turns being adorable, infuriating, and vulnerable. It all felt believable. I haven't read too many contemporary romance novels. If this is a reflection of the genre as a whole, then it is a genre I will definitely read more of.