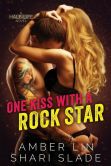 Recently I came across a fabulous book blog called
Romance Novels for Feminists
, and there I found
One Kiss With a Rock Star
. Like the other erotic romance rock star stories I've come across, it involves a bad boy rock star and the woman who loves and eventually, who tames him. I knew more or less what to expect when I picked this up, but the premise, as described on the above mentioned blog, suggested an interesting take on the story.
Krist is the rock star bassist of the band Half-Life.
One Kiss With a Rock Star
is the second book in a series. I haven't read the first book but apparently it ended with a threesome among Krist, Half-Life's lead singer Lock, and Lock's girlfriend Hailey. The three of them couldn't wait to get to a hotel room and got hot and heavy in an elevator (cue Aerosmith's
Love in an Elevator
). Shortly thereafter video footage of their time in the elevator was leaked online. Part of that footage showed Krist on his knees pleasuring Lock. As Krist notes he could have yelled at a fan, forgotten a song on stage or even slept with an underage girl - and he would have been forgiven. But the idea of a bisexual male rock star, that's unacceptable in the testosterone driven world of rock. The guy at the music store even refuses Krist to sell him a vintage bass when he realizes Krist is the guy in the elevator video. The band's record company threatens to cancel the band's European tour, as Krist's agent deals with the public relations fallout.
Madeline Fox has a problem. She's a super star pop princess who came up through the ranks of kid TV and now sells out stadiums singing her brand of bubblegum pop. At age fourteen she signed a contract that requires her to maintain the image of the squeaky clean girl next door. Trouble is Madeline is now an adult and she's tired of pretending to be something she's not, particularly when it comes to her personal life. Like Krist, Madeline appetites are broad. She's been going off script and her label isn't happy. Ward, Madeline's agent, comes up with a solution to help both Krist and Madeline: a fake engagement that will make Krist look straight and Madeline like a good girl planning her wedding. Reluctantly, Krist agrees. Madeline is easy to convince, having had a crush on Krist for years although secretly she would love to blow up her contract.
One Kiss With a Rock Star
was mostly fun. If you're looking for an erotica romance that's heavy on the erotic, look no further. The one thing I was a bit disappointed by was the minimal exploration of Krist's feelings about the night he spent with Lock and Hailey. Krist seems ambiguous about his bisexual identity, worried and unsure about the effect of that night on his friendship with his best friend Lock, and generally unsure about the person he wants to be in private and in public. It would have been interesting if the story had explored that side of Krist more. Oh well.