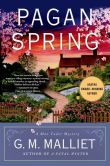 Pagan Spring
is the third book in the Max Tudor mystery series by G.M. Malliet. Malliet's series is set in a bucolic English village led by MI-5 agent turned Anglican priest, Max Tudor. Tudor may have thought he was escaping the violence and ugliness of the world when he entered the priesthood. Instead with
Pagan Spring
Tudor encounters his third murder since arriving in Nether Monkslip. It all begins with a dinner party to welcome the recent addition of a minor celebrity to the village.
There is a British television series called Midsomer Murders that I enjoy. It is a standard police procedural set in a series of villages that at first glance would appear to be bastions of peacefulness in the English countryside but instead seem to have a homicide rate that would rival any major metropolis. Think Crystal Cove and Murder She Wrote, only British.
Pagan Spring
, and its two predecessors
Wicked Autumn
and
A Fatal Winter
, are more or less book versions of Midsomer Murders or Murder She Wrote, which is probably why I like them. There is nothing too complicated, just a comforting cozy mystery with a few quirky characters, a pretty little town and a mystery that needs to be solved. I like darker stories too, but sometimes the time is right for a gentle cozy. This series is perfect for those times.