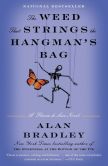 Flavia de Luce is back at it again - roaming around the village of Bishop's Lacey on Gladys (her bicycle), dreaming up ways to vanquish her opponents (especially her sisters) with poisonous concoctions, having adventures, and best of all, solving murders.
The Weed that String the Hangman's Bag
is second in Alan Bradley's Flavia de Luce series about an eleven-her-old English girl who has a passion for chemistry and a tendency to find herself in the middle of murder investigations. When celebrated puppeteer Rupert Porson is killed there is no shortage of suspects. He and his puppet shows may have been beloved by millions of children but with a propensity for romancing naive young women, regardless of whether they are married or not, Rupert is certainly not loved by all. When a shock of electricity ends his puppet show for good, some think it was an unfortunate accident. Flavia is quite certain it was not. Flavia may have thought her murder solving days were behind her once her last adventure (
The Sweetness at the Bottom of the Pie
) ended, but it is not to be. How can she not step in to help when the police so obviously need her?
This is such a fun series! The mystery is good but the real draw here is Flavia. She's the youngest daughter of Colonel Haviland and Harriet de Luce. Harriet's mother disappeared and was presumed dead when Flavia was but a toddler. Devastated by the loss of his wife, Haviland spends most of his time working on his stamp collection. In between conducting chemistry experiments (and solving murders), Flavia spends her time sparring with her two older sisters, seventeen-year-old Ophelia (Fifi) and thirteen-year-old Daphne (Daffy). Fifi and Daffy repeatedly try to convince their little sister that she is adopted and Flavia retaliates by using her sisters as guinea pigs for her chemistry experiments. Rounding out the household are Dogger and Mrs. Mullet. Depending on how he feels that day, his experiences in the war having left its mark on him, Dogger is the butler, gardener, or simply the good friend both the Colonel and Flavia need. Mrs. Mullet is the family's housekeeper and cook. And who can forget Inspector Hewitt - the police constable who cannot help but be both impressed and exasperated by the precocious young detective.
Flavia reminds me of one of my favorite detectives, Miss Marple. She is incredibly observant, extremely intelligent and constantly underestimated by those around her. Still, like Miss Marple, she always manages to figure out who did what. I love being in Flavia's mind as she rides around the village, commenting on all she sees and gathering clues. She is such a curious girl with a sense of adventure who misses a mother she barely remembers. When her aunt tells Flavia that if she wants to know what her mother was like she need only look in the mirror, my heart smiled for her. It is awful for such a little girl to keep stumbling across murders, but it is such a delight to read.