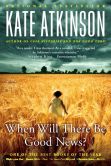 When Will There Be Good News?
is the third in Kate Atkinson's Jackson Brodie series. I was first introduced to Atkinson's work in a review of
Case Histories
(the first book in the series). The reviewer described the book as a mystery and since I have an affinity for mysteries by British women (Agatha Christie, P. D. James, Tana French, to name a few), I rushed to my local bookstore. After reading three books in the series, I am not sure how to describe these books but mystery doesn't seem quite adequate. There are mysterious elements but they are not conventional mysteries. There is a detective in the form of Jackson Brodie. He is a former police officer turned private detective who continues to find himself in strange and mysterious situations even after he retires. Still, the category of mystery doesn't fit. It is like putting in a oval shaped peg in a circle. The shapes closely resemble one another but are not the same.
Describing the plot of
Good News
is even more complicated than trying to determine the genre. There are multiple characters and story lines, so many that for the first 100 pages or so I kept getting confused and having to go back and refresh my memory as to who was who. There's Jackson Brodie of course but he is absent for much of the action in the novel after ending up in a horrible train crash. He nearly dies in the train crash but luckily for him a young girl called Reggie gives him CPR until the paramedics arrive. Reggie is a sixteen-year-old on her own. Her father was never in the picture, her mother recently died, and her brother is a never-do-well who causes Reggie trouble even when he is not around. Reggie is preparing for her A-levels while working as a mother's helper (babysitter) to Dr. Joanna Hunter and her husband. When Joanna was just six-year-old a madman attacked her and her family as they walked down the street. Detective Chief Inspector Louise Monroe informs Joanna that the madman who attacked her thirty years earlier has served his sentence and will soon be released from prison. Soon thereafter Joanna Hunter leaves town to tend to an ill aunt. Only Reggie doesn't buy it. She's convinced that something bad has happened to Dr. Hunter, that maybe her husband did something her. Mr. Hunter is a bit shady, with the police questioning some of his business practices. Monroe and Brodie are old friends/acquaintances/lovers who could have been but never were. See what I mean - multiple characters and story lines.
Despite the multiple characters and story lines, or maybe because of them, I really enjoyed
Good News
. Somehow all the story lines came together in a convincing way, but ultimately it was the characters that drew me in. Atkinson is wonderful at describing how people think and act in both ordinary and extraordinary situations. It did take a bit of time for me to get fully into the book, but once I was in, I was all in. I especially loved Reggie. She was a tenacious, resourceful character who kept fighting no matter how many people dismissed her. Joanna was another strong character, a true survivor. Jackson played a relatively minor role this time around, that is until the end, which was rather surprising. I'm looking forward to the next book in the series,
Started Early, Took My Dog
, to find what strange situation Jackson finds himself in next.