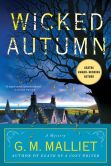 Wicked Autumn
is the first in a series by G. M. Malliet in which each book is tied to a season (after
Wicked Autumn
there is
A Fatal Winter
and
Pagan Spring
). The series is set in a bucolic English village and centers around Max Tudor, a former MI5 agent turned Anglican vicar. He is not a detective, amateur or otherwise, but when a woman is killed in the village Max can't turn off his spy instincts.
Wicked Autumn
was a nice, cozy mystery, albeit a little slow to start. There was a lot of buildup waiting for the victim to hurry up and get killed. It was obvious who the victim would be from the get go as she was an abrasive woman who offended nearly everyone she crossed paths with. Once the victim was finally dispatched, the story picked up the pace as Max went about trying to figure out who was responsible for introducing the evil he had escaped when he left MI5 into his picturesque village. Along the way bits and pieces of Max's MI5 past is revealed.
This is not a challenging read, but I liked it for what it was and look forward to reading the rest of the books in the series. I look forward to learning more about Max Tudor, his MI5 past, and his transformation into a man of the cloth.