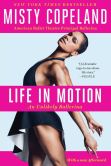 The first ballet I saw was probably a production of
The Nutcracker
at the local community center in my hometown. Since then I have been fascinated, intrigued, and completely mesmerized by dance. There is something magical about men and woman flying through the air, and dancing on their tiptoes and telling a story without saying a word. When I lived in New York I tried to see as many ballets as my time and money would afford. Several years after leaving New York, attending a performance at Lincoln Center is still one of the things I miss most about the city. So when I heard that Misty Copeland was publishing a memoir/biography I was thrilled. First, she is a wonderful dancer. Second, as a soloist at the American Ballet Theatre she is one of the very few African-American women to have ever made it to this level at a major ballet company.
Copeland has an interesting story to tell. Her background doesn't quite fit the mold of a typical ballet dancer. For starters, she began dancing relatively late at the ripe old age of 13 and her first class was at a Boys and Girl Club. In
Life in Motion
Copeland tells how she went from dancing at a gym at a Boys and Girls Club to the stage at Lincoln Center's Metropolitan Opera House. In addition to her personal story, Copeland provides a glimpse of what it takes to be a dancer - the daily regimen of class and rehearsals, the injuries, and even the politics of the ballet world. Notwithstanding my love of the ballet, I have to admit I don't know much about its history so I was particularly interested in the bits about other dancers of color who preceded Copeland (now I have homework to do) and the inner workings of a ballet company.
I very much enjoyed
Life in Motion
. It was a quick and entertaining read. If you're interested in ballet or dance in general, I would recommend it. If you're interested in the politics surrounding race and art this might also interest you.