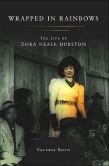 What a tremendous biography! I was first introduced to Zora Neale Hurston through
I Love Myself When I'm Laughing...& Then Again When I Am Looking Mean and Impressive
(A Zora Neale Hurston Reader), anthology edited by Alice Walker. Since then I've meant to read more of Hurston's work but always found her a bit intimidating. After reading Valerie Boyd's biography of Zora Neale Hurston, her books will definitely move up the ladder on my to be read list.
Valerie Boyd must have spent years researching her subject in order to produce such an in depth portrait of Ms. Hurston's life. The author of such classics as
Their Eyes Were Watching God
and
Jonah's Gourd Vine
really comes alive through Boyd's writing. Her genius, her courage, her bravery, and her flaws - it's all here.
Wrapped in Rainbows
is the March selection of my book club. I am so glad this book was chosen.