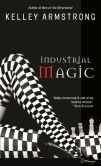 Industrial Magic
is the fourth book in Kelley Armstrong's Women of the Otherworld series. Like the previous entry in the series,
Dime Store Magic
, this book is written from the point of view of Paige Winterbourne, a witch. In
Dime Store
Paige began dating Lucas Cortez, son of Benicio Cortez and heir apparent to the Cortez Cabal. Lucas has spent his adult life avoiding his father and fighting in his small way, against the Cabals, but when someone starts killing the children of Cabal members and employees Paige finds herself drawn into the search for killer. And once Paige is involved, Lucas won't be far behind.
I really enjoyed
Industrial Magic
.
Dime Store Magic
started off a little slow, but
Industrial Magic
captured my attention pretty quickly and kept it. The complicated relationship between Lucas and his father was better drawn in this book. In the previous book their relationship was very black-and-white: the cabals are bad, therefore Benicio is bad and Lucas, with his anti-cabal crusade, is good. Here their relationship was a bit more complex, which I appreciated.
Industrial Magic
also introduced a new character to the Otherworld universe - Jaime Vegas, a necromancer and Savannah's favorite television personality. (Savannah is the kid Paige took in in the previous book.) Jaime and Jeremy Danvers (a werewolf from the two first books in the series,
Bitten
and
Stolen
) meet for the first time in this book. I have a feeling something good is in store for these two. Unfortunately I think I have to wait until book 7 to find out. On the upside, that means there are several more books in this series to look forward to.