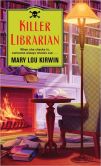 Killer Librarian
is about a librarian who not only loves mysteries, but finds herself in the middle of one. How could I not buy this?
Karen, librarian, mystery lover and Anglophile, is all packed for her first ever tip to London, with her boyfriend Dave.
Instead of picking her up as planned, Dave unceremoniously dumps her with a phone call.
Karen decides to go to London anyway.
At the quaint bed and breakfast where she has decided to stay while in London she meets fellow book lover and B and B owner Caldwell Perkins, Betty and Barb two elder ladies with a passion for flowers, and husband and wife, Howard and Annette. Howard loves flowers and has even named his newest hybrid after his wife. His wife is less enthusiastic about flowers and her husband's passion for them. When Howard dies suddenly, some question whether his death was simple due to age or whether there is a more sinister reason.
Killer Librarian is totally fluff and absolutely delightful. The last book I read touched on sex trafficking and my next book is all about Henry VIII and his succession of wives, so delightful fluff was just what needed in between. If you're looking for a light read and cozy mystery this will do the trick.