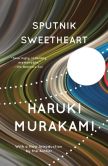 The first book I read by Haruki Murakami was
What I Talk about When I Talk about Running
. I like running and reading about running and he wrote about running so it was perfect. I really liked it and vowed to read more about this author I had heard so much about. Being a sucker for a well-done media campaign, when
1Q84
was published I ran out immediately and bought it and then didn't read it. I meant to but was a little intimidated, less because of its size and more because of way people talk about Murakami. It just felt like a Murakami book was going to be an experience that had to be prepared for. Also, everyone seemed to advise against starting the Murakami experience with
1Q84
. Seriously do a Google search for "where to start with Haruki Murakami" or something similar and
1Q84
will never be the answer. The next Murakami book I picked up was
The Strange Library
but the consensus seemed to be that it was not the best place to start either. Instead the consensus suggested starting with
Norwegian Wood
, but a friend suggested starting with
Sputnik Sweetheart
, so that's where I started.
I'm not sure how or what to think about it yet. Let's start with the writing. I loved it. This will sound weird but fifty pages in I began thinking that this book was like warm butter melting over freshly baked, still warm bread. I often read in short spurts. Twenty minutes here then I'm doing something else, then maybe another ten minutes reading later. Yesterday I got in a couple pages while waiting for a meeting to start. I picked up Sputnik and the next thing I knew I was 100 pages in. Hardly anything could distract me from Murakami's writing. It flowed and melted into my psyche with hardly any effort.
According to the description on the book's back cover, Sputnik is a love story combined with a detective story. I'm not sure I would call it that. There are characters who express degrees of love for another. Actually there is a love triangle, or not quite a triangle since all the sides don't connect up. The narrator is in love with a former classmate called Sumire. For a long time Sumire says she does not quite understand love or sexual desire but then she falls in love with an older woman called Miu. Miu doesn't love, can't love anyone anymore. The mystery portion of the story begins when Sumire disappears while visiting a Greek island. Efforts are made to find her but it takes more than that to make a detective story.

Rather than a mystery or a romance, to me this read like an exposition on loneliness and disconnection. When Sumire and Miu first meet Miu essentially asks Sumire what about her makes her special and what it is she does. Sumire doesn't have a much an answer other than she aspires to be a writer. Although she writes daily Sumire doesn't really have much to say yet. Miu offers Sumire a job, suggesting that perhaps she needs a bit more life experience. Miu is beautiful, sophisticated and worldly. It is no wonder why Sumire falls for her.
Sumire and the narrator have been friends a long time. Like Sumire, he is somewhat removed from life. In one of my favorite passage the narrator notes that his passions are books and music and that there is barrier between him and other people. The one person he cares deeply about is Sumire.


Later in the story Sumire via the narrator recounts a story Mia told Sumire about an experience she had fourteen years earlier. The experience turned her once black hair completely white and left her an empty shell unable to fully connect with the world in the way she used to. That was what stuck out to me the most – how all three characters were connected and disconnected from each other, themselves, and other people.
It
is times like this when I almost wish I was back in school so I could take a class and discuss this book. In any case, I'm glad I finally read a Murakami book.
1Q84
is probably going to remain in a TBR pile a bit longer but I'll get there, eventually. Before that I'll try The Strange Library and Norwegian Wood.