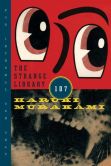 The Strange Library
is the second fiction book and third book overall that I've read by Haruki Murakami.
Honestly I'm a bit mystified by this one.
What I liked most was the way the book was packaged, with its vertical cover flaps and fascinating illustrations.
As for the story itself, I would have liked a little more.
The story is about a boy who goes looking for some books at the library and becomes trapped there.
He meets some interesting characters and tries to figure a way out.
The story built up to a climax and then petered out.
You know how when an author has a series (say J.K. Rowling and the Harry Potter series or George R.R. Martin and the Song of Ice and Fire series) and the author writes a short story related to the main series.
Often the short story only makes sense, and only matters to you, if you are already familiar with the series.
The Strange Library
felt a little like it could be a tangent from another, larger story. I am just getting started with Murakami's books. Maybe this will mean more to me after I have read a few more.