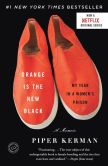 I'm not sure what to say about
Orange is the New Black
. Like many people I traveled for the winter holidays. I had brought a book but just couldn't get into it so I went to the bookstore and picked up this book that I have heard so much about. I know there is this a Netflix series and eventually plan to watch it, but being a book person I figured I would read the book first. It was a good pick for the holidays - short and intriguing but I have to admit I'm a little less interested in the show now.
Most are probably familiar with the basic outline of the Kerman's story: As a young woman she got involved in her girlfriend's drug business, mostly transporting large sums of money across country borders. She wised up quickly, got herself out of the situation, and got on with her life. She was in the process of building a pretty good life, complete with a promising career, an awesome boyfriend, and plenty of friends and family. Then out of the blue her youthful transgressions came back to haunt her when federal authorities came knocking on her door. Kerman pleaded guilty and went to prison for a little over a year.
Orange is the New Black
is largely about Kerman's time in prison.
I'm not sure what I expected, except not quite this. It is all about Kerman, which I suppose should be expected since it is a memoir. Still I wish she had connected her experience to something larger than herself. At times the book reads a little like I did this bad thing and look how I grew, aren't I great? Then again, maybe I'm being unfair. This is Kerman's story after all. Still I can't help but wonder how her experience would have differed if she was not so blond, pretty, and relatively privileged. It would have been interesting if Kerman had interviewed other woman who were in a similar situation as hers and included their perspectives in the book or if there was more about the prison system in general. I guess I wanted more social commentary. Without it, the book sort of seemed like a story that might be told at a dinner party - entertaining but ultimately forgettable and meaningless.