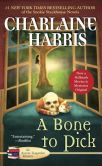 The movie was better. It sometimes happens, and it happened here. The movie to which I refer is the movie version of
A Bone to Pick
that recently aired on the Hallmark Movies & Mysteries channel.
A Bone to Pick
is the second in Aurora Teagarden series by Charlaine Harris the first being,
Real Murders
. I read that one a few weeks ago, before picking up this second book and watching the movie.
The book started out well. Aurora Teagarden is a librarian with an interest in true crime. She's not alone. Aurora was a member of the Real Murder Club where those with similar interests discussed famous solved and unsolved murder cases. In
Real Murders
, when one of her fellow club members was murdered, Aurora set about finding out who did it. This time around Aurora inherits a house, money and a mystery from Jane, a fellow club member and retired librarian. The money and the house are a Godsend, the mystery not so much.
The mystery centers around a human skull Aurora finds hidden in the window seat of her new house. For awhile Aurora contemplates the possibility that sweet, old Jane had an even deeper interest in true crime than anyone realized. The idea that a sick, elderly woman could have bludgeoned someone to death and removed his head is soon dismissed. So then the question is who was the victim and who is responsible for his death? Sounds like promising beginning, right? Unfortunately, after that the mystery sort of fizzled out. My main problem with this book is that Aurora spent more time worrying about her social life than about the mystery. A sleuth, amateur or otherwise, should spend time looking for clues, questioning suspects, and well, trying to solve the mystery. Aurora does almost none of that. She does spend a great deal of time thinking and wondering about the what might have happened, but she spends little time testing her theories. In the movie version in contrast, Aurora actively tries to solve the mystery.
So this was a disappointment. At least there is still Hallmark Movies & Mysteries. If Hallmark Movies & Mysteries decides to make more movies from the Aurora Teagarden series I will watch them, not so sure I'll read any more of the books.