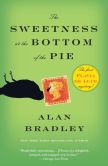 First a dead bird with a stamp stuck in its beak turns up on the doorstop. Then Colonel de Luce is heard arguing with an unknown man in his study. To top it all off, Flavia finds a red-haired man lying in the cucumber garden. She arrives at his side just in time to hear his last word, "Vale". Most eleven-year-olds would probably be frightened, might even run away screaming upon witnessing a man breathe his last breath, but Flavia is not most eleven-year-olds. No, aspiring chemist, poison enthusiast, and all around adventuress Flavia is not frightened. She is intrigued.
What a delight! Flavia is precocious, funny, adventurous, and so much more. Following her as she tried to puzzle out who killed the man in the garden and left the bird on the doorstep was so much fun. Sure there were some clues that were easy to spot but then Flavia is eleven; it made sense that she didn't always figure everything out quickly. But don't think because she is eleven this story is merely for middle schoolers. Though I would have loved to have had something this when I was eleven and I think some pre-teens could handle this, this book is shelved in the adult section. There are a few jokes that will make adults chuckle while sailing over the heads of youngsters. One of my favorites: after being advised by her passionate-for-books sister Daphne to kick any man who tries to grab her in the Casanovas, Flavia wonders to herself, where exactly are the Casanovas?
The rest of the cast characters is just as entertaining as Flavia. In between searching for clues Flavia battles her two older sisters, 17-year-old Ophelia and 13-year-old Daphne, using chemistry as her weapon. Dogger, once the family butler, chauffeur, and all around right hand man, now gardener (the war having left him memory loss and hallucinations) is more family than employee. He gives Flavia a hand when he can. Harriet, the de Luce matriarch and an adventuress in her own right, disappeared while on one of her adventures and is presumed dead, leaving the girls' father Colonel Haviland to raise the girls. Unfortunately the Colonel is a recluse who barely seems to notice his daughters exist, preferring to spend most of his time in his study pouring over his stamp collection, leaving the girls to largely fend for themselves. They seem to do alright. Ophelia worries about boys and makeup; Daphne loves books and reading; and of course Flavia has her chemistry.
I enjoyed this so much. Luckily this is the first in a series so there is more Flavia to read. I can hardly wait.