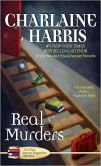 There used to be a series of movies on the Hallmark Channel called Mystery Woman about a female bookstore owner who had a passion for mystery novels, a habit of stumbling over dead bodies, and a talent for solving mysteries. I always wished that the movies were based on a book because that is a book I would read. Alas, there is no Mystery Woman book series that I've been able to find, but I found something close: the Aurora Teagrarden series by Charlaine Harris. This weekend Hallmark is premiering a new mystery movie called
A Bone to Pick
based on the second book of the series. Because I prefer to start a series at the beginning I picked up a copy of
Real Murders
, the first Aurora Teagarden book.
Aurora Teagarden is a librarian in a small Georgia town. She is also a member of a club called Real Murders, a group of true crime aficionados who like to research and discuss famous solved and unsolved cases. As their monthly meeting is about to start, Aurora realizes that one of their members has gone missing. Aurora goes looking for her and discovers her first dead body. Not only has one of the club's members been murdered, the circumstances of the death are similar to the case the club was planning to discuss that very evening. Aurora doesn't want to believe it but she suspects that the murderer is one of her fellow club members.
Charlaine Harris, the author of
Real Murders
, has written multiple series including the Southern Vampire/Sookie Stackhouse series, which I enjoyed very much, and Harper Connelly series, which I enjoyed less. (To be fair I only read one Harper Connelly book.) So far, the Aurora Teagarden series falls in between Sookie and Harper. Aurora reminds me a bit of Sookie in that she's another small town southern girl thrown into the deep end and finding she can swim pretty well. Unfortunately the characters and the setting in the Teagarden series aren't quite as fleshed out as the Sookie series. Bon Temps and its inhabitants felt like a real place, Aurora and Lawrenceton, Georgia not so much. Still this was worth a read. The mystery was an interesting one and just when I thought I had it all figured out it turned out I got it all wrong.
If you like cozy mysteries this one is worth the try. I am looking forward both to reading the next book in the series and watching the Hallmark version. There is a place in my heart for smart, often single women like Miss Marple, Cordelia Gray, and Samantha Kinsey who have a talent for solving murders. Aurora Teagarden might soon find herself added to that list.