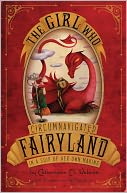 I picked up this book based purely on the title. I mean,
The Girl Who Circumnavigated Fairyland in a Ship of Her Own Making
- what a fabulous title! I'm happy to say that the story is equally as fabulous. This is not a princess waiting for her prince kind of story. Far from it. Here is a girl on an adventure, trying new new things, making new friends, saving herself and others.
This reminded me of the
A Series of Unfortunate Events
, another series I would heartily recommend. Like the
Unfortunate Series
books,
The Girl Who Circumnavigated Fairyland
was written up, and not down, to kids. It is smart and funny. At times it is melancholy, sad and there is even a hint of violence in the real world. In other words, although about an adventure in fairy it deals with real feelings.
I quite enjoyed this book, but would think carefully about which little girls I would give this to.