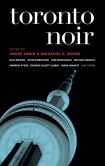 Sometimes a place - a country, a city or a neighborhood - inexplicably captures my attention and imagination. I want to read about it, watch movies that are set there, talk to people who have been there, all in preparation of (perhaps) one day visiting the place myself. For the past year or so the city of Toronto has been the place that captured by attention and imagination. I also love mysteries. When I saw
Toronto Noir
at a book festival last April it felt like a sign. Here was a book that combined two things that I happened to be interested in. Plus I had been aware of this series from Akashic Books for a while but had never gotten around to reading any of them, so I decided that
Toronto Noir
would be my entry into the series.
For those unfamiliar with the Akashic Noir series, each book is a collection of noir short stories set in a particular city (or section of a city). In picking up
Toronto Noir
I was looking for something that gave me a taste of what the city is like in the form of a crime related story. As to the Toronto part of the book, underneath the title of each story is the name of the neighborhood in Toronto where the story is set. Having never been to Toronto the name of the neighborhood meant little to me but I looked forward to learning about the neighborhood. Unfortunately, for many of the stories other than being set in Toronto there didn't seem to be much of a connection to the city or the identified neighborhood. There was no sense of what the neighborhood looked like or what it was like to live there. For example, was it an old neighborhood, a new suburb, a gentrified neighborhood, or a place where starving artists lived? Was it an area populated by young, moneyed professionals, aspiring artists, starving students, or an ethnic enclave? Were the streets lined with local cafes and little shops or Starbucks and skyscrapers? This was not true of all the stories of course but overall I finished this book with not much of a sense of what Toronto was like before reading this book.
As for the noir part of the book, halfway through the book I decided to look up the definition of noir to make sure it meant what I thought it meant because the stories didn't exactly seem very
noir
to me. There are multiple stories involving cheating spouses, stalkers and peeping Toms, necrophilia, but there are no real mysteries. To the extent a crime occurs the reader is told early on who did it and why, so the rest of the story is mostly description of how the character committed the crime and did or did not get away with it.
Overall, I was disappointed with
Toronto Noir
. It will probably be awhile before I pick up another book in this series, but will pick up another one. I am still very interested in going to Toronto. Hopefully I'll make it there this spring or summer and then I finally find out what Toronto is really like.