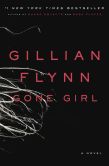 Amazing! Let me say at the top it is going to be hard to write about this without spoiling it. I'll do my best, but if you haven't read
Gone Girl
and want to and you are the type who hates spoilers, then don't read this yet.
Did you ever see
War of the Roses
? The movie with Kathleen Turner and Michael Douglas about the couple who falls in love and then it dissolves into hate, bitterness, and divorce and they fight over everything, every little thing. Or the French movie
He Loves Me...He Loves Me Not
where the first half tells the story of the romance between a young woman and a doctor from her point of view, then in the second half we see it from his point of view (and it is clear that she is completely crazy).
Gone Girl
is a cross between the
War of the Roses
and
He Love Me...He Loves Me Not
with a dose of steroids thrown in for good measure. In one corner is the psychotic (and utterly brilliant) avenging wife ("Amazing" Amy) and in the other corner it is the selfish, cheating husband (Nick). It all begins the morning of Nick and Amy's fifth wedding anniversary when Amy goes missing. Nick arrives at their home to find the front door has been left wide open, the living room is in disarray, and their cat is wandering around aimlessly on the front porch. Naturally the next question is, did Nick do something to Amy. Did he kill her?
What is most amazing about Flynn's book is that although neither of the two main characters are particularly likable (I didn't like either from page one, at best they were whiny and annoying. At worst they were utterly despicable), I couldn't stop reading, couldn't wait to find out what would happen next. On the day I started this book I only intended to read the first 70 or so pages. I ended up reading till near midnight and would have continued reading if I didn't need to get some sleep and go to work the next morning. The plot twists come one after another. As soon as you think you know one character something else is revealed about him or her which changes everything.
This is the first book I've read by Gillian Flynn, and after
Gone Girl
, it won't be the last. It is suspenseful and thrilling. Highly recommended.