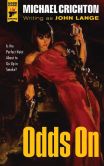 The basic plot of
Odds On
is pretty simple: Three criminals plan to rob the Reina, a luxury resort hotel in Spain. To ensure their success they have had every aspect of the crime plotted out and simulated on a computer. There is talk of punch cards to give you an idea when this book was written. Of course, nothing goes quite as planned.
Odds On
was published by Hard Case Crime, an imprint that specializes in publishing new and republishing old hard-boiled crime fiction. I have always loved old-fashioned dimestore novels. In fact I kind of prefer romance novels and certain mystery and crime novels in mass market paperback size and will go out of my way to get them in that format. It just feels right. Hard Case Crime has done a great job recreating the look and feel of those old-fashioned novels. This is most notably demonstrated in the cover art. In keeping with the old-fashioned dimestore novels from the 40s, 50s, and 60s each novel has a lurid cover, usually involving a woman in a provocative pose. The artwork is pretty amazing and is yet another reason why I prefer physical books, or tree books, to ebooks.
As for this specific tree book, it was okay. it started off slow and sped up toward the end. At first this reminded me of
Oceans 11
. There is a crazy scheme with a bunch of moving parts, so many characters I had trouble keeping them straight, set against a wealthy backdrop. Ultimately this was not as fun as
Oceans 11
but then
Oceans 11
might not be as much to read as it was to watch.
Check out
Hard Case Crime
to learn about other novels in the series and see some of the great artwork.