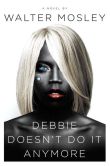 There is a Goodreads thread that asks whether the title or the cover of a book is more important in terms of grabbing attention. In other words, which is more likely to get you to pick it up and consider it? For me it is usually the cover that grabs my attention first, with the title a close second. I like to walk through the aisles of a bookstore from A to Z and pick up interesting looking things along the way. A good cover can stop me in my tracks. Not that a good title isn't important. It is, but when I walking through the aisles I do not necessarily read the titles that closely unless looking for something specific. With Mosley's book both the cover and title grabbed me.
Debbie Doesn't Do It Anymore
sounds like a punchline to a joke. It is familiar sounding and provocative. Then there is the cover. It is a head shot of a Black woman, the Debbie of the title, with white blond hair, blue contact lenses over her naturally brown eyes, a fake white dot of a tattoo under her left eye, and red lips. It is odd and intriguing; I immediately picked up. The marketing department did will with this one.
The Debbie of the title is Debbie Dare whose signature look makes her a standout in the adult entertainment business. As the book open she is about to have a surprisingly mind blowing orgasm. It is a surprise because after having sex so often with so many random people in front of a camera and an audience for so many years, she rarely has them anymore. The orgasm seems to portend something. Sure enough when she arrives home from work that evening she finds that her husband, who also made a career in the adult entertainment films, has died. He was filming a scene between himself and a sixteen-year-old girl in a bathtub when the camera fell in the bath and electrocuted them both.
Debbie is surprisingly calm when the police explain what happened. Between the orgasm and the deaths, Debbie's life changes overnight. She decides to quit doing porn. There is no regret or judgment, only a simple decision to change course. She considers her relationships with her family, her friends, and her husband's family. She contemplates suicide while at the same time is determined to live life on her own terms. As I think about it more, I wonder if perhaps Debbie was numb and these two events, which happened in a manner of hours of each other, were the catalysts that caused her to wake up and start really feeling again.
Debbie Doesn't Do It Anymore
is the first book by Walter Mosley that I have read. I don't know why I haven't read him before. He writes a lot of mysteries which would seem to be right up my alley yet somehow his books have eluded me. Not anymore.
Debbie
was an excellent read. It was non-judgmental look at a woman who decides to stop and take a hard look at her life, the good and the bad. Debbie has had little formal education but reads a great deal and keeps a journal. She is very aware of how people perceive her and how her chosen career affects how she relates to people. She generally sees and accepts people for who they are, reflecting a degree of compassion that sometimes seems rare in the world. Overall Mosley did a very good job of painting paints a complex picture of a woman with a complicated life, without sentimentalizing or demonizing her.
Since I haven't ready any of Mosley's work I cannot say how it stacks up to the rest of his work. For me, it was a good introduction to his work and has me interested in reading more, especially the Easy Rawlins mysteries.