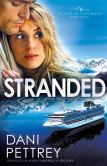 Stranded
is the third entry in Dani Pettrey's Alaskan Courage series. Like its predecessors it is a romance thriller with a heavy dose of Christianity mixed in. The couple at the center of this book are Darcy and Gage.
Darcy was an investigative journalist. She gave it up when all the lying and misdirects inherent in going undercover began to trouble her conscience. She decided to shift her reporting focus to the sports world instead. Darcy and Gage meet in the last book,
Shattered
, when Darcy reported on the story surrounding the murder charges against Gage's professional athlete of a younger brother. When the two met it was instant attraction and instant dislike. On Gage's end, the dislike extended from his distrust of reporters and Darcy in return didn't appreciate Gage doubting her integrity.
Stranded
takes place five months after the events of
Shattered
have taken place. Although she had given investigative journalism, when an old college friend/reporting buddy asks her to help with a story and then disappears Darcy puts her reporter's hat back on and heads for the Alaskan cruise ship where her friend was last seen. As it so happens Gage and his family, who run an adventure company in Alaska, have recently been hired to run excursions on the exact same cruise ship. What a coincidence. Now Gage and Darcy have a chance to see if there will be more attraction and less distrust the second time around. As for the thriller portion of the story, it centers around women disappearing in Alaska.
The romance in
Stranded
was predictable but somewhat satisfying. The two main characters started off liking each other but swearing it could never work, until it does. The thriller storyline was slightly less satisfying. I like mysteries with clues laid out. I don't have to be able to solve the mystery but I want to be able to look back when it's done and see how all the clues I missed fit together.
Stranded
didn't quite have the quality to it. Darcy may be a reporter but she's no detective.
The best moment of the story for me was when Gage's sister Kayden is finally made to realize how wrong she has been about Jake, a guy who has been nothing but nice and helpful to her family. I wrote about how much she irked me in the last book
here
. The fourth book in the series centers around Kayden and Jake. That ought to be interesting.