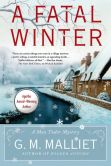 Lord Oscar Footrustle and and his twin sister Lady Leticia die on the same day at their shared home of Chedrow Castle. She died of natural causes, perhaps in reaction to her brother's murder. Just before these deaths the Footrustle family had come from near and far for a family reunion of sorts at the request of Oscar. There is his estranged daughter Jocasta and her American husband Simon, Oscar's much younger ex-wife Gwynyth (whom everyone in the family considers a gold digger), and their two children, Alex and Amanda, who also happen to be twins. On Lady Leticia's side there is her barely tolerated adopted granddaughter Lamorna, Leticia's eldest son Randolph and his assistant Cilla, and finally, Leticia's younger son Lester and his Australian wife Felberta, or Fester as the family calls her behind her back. Given the location and the structural integrity of the Castle, it is highly unlikely that a stranger broke in undetected and killed Lord Footrustle, which means that the murderer is someone in the family.
Max Tudor, a former MI5 agent turned Anglican priest, is invited by Lamorna to assist with the funeral preparations. The local police, aware of Tudor's secret agent past, asks him to look for clues while meeting with the family. Once again the man who has tried to seek a more peaceful life within the walls of the church is surrounded by violence and death.
With a
Fatal Winter
G. M. Malliet was definitely trying to channel Agatha Christie and G.K. Chesterton with multiple with references to Hercule Poirot and Father Brown. It is an old-fashioned cozy mystery with some modern references thrown in. Since I adore Christie (though I prefer Miss Marple to Poirot) this worked for me. I did miss Nether Monkslip, the village where Tudor's parish is and where the prior book in the series took place, and the village's colorful characters. However, the twists and turns of the castle made up for it.
A Fatal Winter
is the second in what I assume to be a four-part series. Other entries in the series include
Wicked Autumn
,
Pagan Spring
, and
A
Demon Summer
(not yet released).