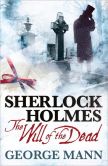 In
The Will of the Dead
Sherlock Holmes and Dr. Watson are called on to determine if the sudden demise of Sir Theobald Maugham, who other than being elderly was in fairly good health, was a natural one or a murderous one. It was well known that Sir Maugham had prepared a will that left his estate to be equally divided among four nieces and nephews, but the will cannot be found. What's worse, a long lost relative shows up claiming to be the deceased gentleman's rightful heir. Watson and Holmes must also figure out how to stop the mysterious mechanical steam-powered men who have been robbing people in their homes. Nothing seems to stop them, not even bullets.
The Will of the Dead
is a Sherlock Holmes story but it is not by Sir Arthur Conan Doyle. It was written by George Mann, published by Titan Books and includes a steampunk element. Despite these changes
The Will of the Dead
still felt more or less like a Sherlock Holmes story. It was fun and had me guessing at who was behind the various crimes. If I could change anything it would be to up the steampunk element. The mechanical men plot line was a B story that felt like an afterthought.
I don't know much about this new series of Sherlock Holmes stories from Titan Books but I will definitely be checking more of them out.