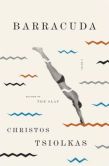 Danny Kelly, aka Barracuda, aka the main protagonist of Christos Tsiolkas' novel
Barracuda
, is a guy I both understand and don't get at all. Danny is an outsider at school. As a kid from a working class family, one generation removed from immigration, he never quite fits in at the rich school where he got a scholarship for swimming. Teen years spent in such an environment gives Danny a well-earned chip on his shoulder. He uses his anger as fuel to succeed, to be the best, the strongest, and the fastest. That was understandable.
He has a dream to become an Olympic swimmer. It is not a childish dream, the kind where a kid says I want to be a princess, and a fireman, and everything else under the sun. No, Danny Kelly is good. Really good. But the moment things don't work out, Danny falls apart. That's the part I didn't get. Bad things happen. You fall down, cry, then get up again and keep going. Danny has a difficult time getting going again.
Literary fiction is one of those things that is hard to define, but one knows it when one sees it, to badly paraphrase former Supreme Court Justice Potter Stewart.
Barracuda
is it. There is something of a plot, but that's not the point. Tsiolkas does good a job of getting underneath Danny's skin and showing what's hidden there. Danny dreams of being something and somebody. He's a boy trying to be a man; a boy deathly afraid of failure and not sure what to do when plans go awry. He's feels misunderstood by his parents. He is apart of a family but doesn't always understand what it means to be part of a family or a friend. When Danny makes a life changing mistake, he is even more confused. It makes it that much more difficult to let anyone else get too close. In short,
Barracuda
is an intense character study. It was difficult to read sometimes because it is so real.
It is hard to know to say about this novel, except to read it. This is the second book I've read by Tsiolkas. He is a writer that intrigues me. He also has me intrigued about Australia. His novel paints a critical, yet mesmerizing picture of life in modern day Australia. I want to know more. Who knows, maybe Australia will be next destination.