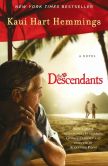 I recently went to Hawaii for the first time and since then have been eager to learn more about the history and culture of the islands. I am especially interested in the monarchy that once ruled the islands, how the monarchy was ousted leading the way for Hawaii to become the 50th state (it is not a pretty story) and Hawaii during World War II. As I was looking for histories, the fact that
The Descendants
is set and was filmed in Hawaii kept popping up. I had seen the movie but thought it would be cool to read the book now that I had some sense of the geography and history of the land (admittedly a very small sense).
The Descendants
is told from Matt King's point of view. Matt is soon to be a widower. A boating accident has left Matt's wife Joanie in a coma and left Matt to raise their two daughters. In the voice over for the movie, George Clooney (who played Matt), remarks that he had always been the back-up parent. Joanie was always the primary parent and with her on her way out, Matt is more than a little bewildered by his daughters, 10-year-old Scottie and teenager Alex.
Joanie's coming death is not the only matter on Matt's mind. The descendant of the long gone Hawaiian monarchy and missionaries, Matt is one of the state's largest landowner. With his father's death a year earlier the trust through which much of the land was held is about to be dissolved, leaving Matt (the largest interest holder of the trust) and his cousins with some decisions to make about the future of their land. If that wasn't enough to deal with, Matt learns that his comatose wife had been having an affair.
The Descendants
is packed full of drama and yet is strangely sedate. Perhaps this is because the story unfolds through Matt's eyes. Matt never really gets angry, not even when he finds out about the affair. It all seemed too calm given the circumstances. His daughters certainly were angry, or at least upset. Joanie's father was upset. But through it all, Matt remained eerily calm. I kept waiting for him to explode. There were other characters who showed some emotion. Scottie, desperate for attention and unsure of what was going on, kept trying to come up with the perfect story to tell her comatose mother. Alex, a recovering addict, alternated between surly and caring older sister. Both girls were figuring out who they want to be. Added to the mix is Alex's friend Sid, who offers moral support to the family during Joanie's last days. His character is one of the funniest in the story.
Overall, the novel felt a little flat, probably because of Matt's calmness. The story sort of quietly simmered but never came to a boil, leaving an unsatisfying taste behind. Matt was just so distant from his own life, which in turn made the story seem distant. There needed to be something more, something to grab onto. I kind of liked it, but certainly didn't love
The Descendants
. I am looking forward to reading more books about Hawaii.