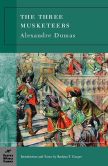 The Three Musketeers
is one of those books that is so pervasive in culture that I felt like I knew the story even though hadn't read the actual story. I'm pretty sure I read an abbreviated version of this as a kid and have seen various versions movie and cartoon versions of the story, but figured it was about time I read the source material. BBC America's The Musketeers series further motivated me to move this up on the to-be-read list.
Reading classics can by risky, especially well known ones. Stories that have been around a long time, that have been so built up in the imagination of pop culture, have a lot to live up to. I need not have been worried about a book from the man who wrote
The Count of Monte Cristo
, one of my favorite books. Seriously, Alexandre Dumas did not disappoint.
The Three Musketeers
is the soapiest of soap operas. There's romance and secret affairs, sword fighting and duels, and innocent damsels and scheming vixens both of whom are equally beguiling to knights and other men who come into their orbit. It's all set against the political and royal intrigue of 17th century France and England.
Dumas takes historical events and then ups the drama to level 10. His work is a textbook example of popular fiction in the best way possible. It's fun and has made me interested in learning more about the history behind the story. Highly recommended.