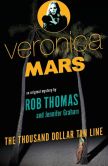 Veronica Mars is back! In book form! Could this get any better? So many times when I have loved a tv show or a movie I have wished there was a book series because as I much as I love watching a well written story be well acted on a screen, I really love reading a good story. And I not talking about the book adaptions that sometimes come out where an author basically rewrites a script as a book - those generally suck. What I want is for a great movie or show to have been based on a preexisting book.
The Thousand Dollar Tan Line
is the next best thing, maybe even better as Rob Thomas and Jennifer Graham have taken a story usually told visually and continued it in literary form. It is all sort of perfect.
Enough gushing, let me get to the actual book.
The Thousand Dollar Tan Line
picks up right where the movie left off. Keith Mars is still recovering from his injuries. Logan Echolls is at sea. Best of all, Veronica Mars is back in Neptune and back on the case! Mac and Wallace are around too to help out. Even Weevil makes an appearance.
The case at hand concerns two missing girls. It's spring break and hundreds of college kids have descended onto the beach side town marshmallows know as Neptune. A girl goes missing. Sheriff Lamb is as corrupt and inept as ever, insisting it is nothing more than another case of a girl gone a bit wild. Then a second girl disappears and things get serious. Not to worry Veronica Mars is there to poke around and ask the questions the police won't ask.
This was classic Veronica Mars and fans of the show are sure to love it, but even for those who never saw the show this is a great story on its own. It definitely helps to have seen the show to have a sense of who the main characters are and the relationships between them, but the mystery works even if one hasn't seen the show. I can hardly wait to read the next book in the series. Luckily the next one will be out in a few weeks.