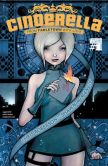 This seems to be the season of retelling, or rather recasting, of classic stories in a different genre from the original. Or at least it is the season of me finding such stories. This book is a retelling of Cinderella's story in graphic novel format. Instead of a damsel in distress waiting for her prince, here in
Cinderella: From Fabletown with Love,
Cindy has divorced her Prince Charming. Most of Fabletown thinks she is just another socialite globetrotting around the world shopping and partying. What most don't know is that Cindy is an international spy. When magical objects start disappearing from Fabletown and reappearing in the mundy (that is, the ordinary human world), Cindy is tasked with finding out who's behind it and putting a stop to it. Magical objects in the mundy world could cause real problems for everyone.
This was super fun! I'm not too familiar with this series of Fables from Vertigo. I picked this up on a whim and am so glad I did. Cinderella as a super spy who can defend herself with or without a weapon was just plain awesome. I don't want to give to much away but I loved how the traditional tropes from fairy tales were used to comment on the themes of fairy tales, particularly the trope of the fairy godmother. This was definitely a good read.