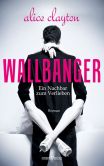 Caroline has just moved into a beautiful apartment. It has a nice big kitchen perfectly suited for all the cooking and baking she likes to do. It has a great view of the city of San Francisco. There's just one tiny problem - she share's a bedroom wall with a very noisy neighbor. The first night in her beautiful apartment Caroline wakes up to someone banging on the wall and the sound of spanking. The next night there is more banging and the sound of purring. Night number three follows with more wallbanging and giggling. Fed up, Caroline marches over to give Wallbanger, as she has nicknamed her noisy neighbor, a piece of her mind.
Wallbanger
is one of the best romance stories I've read in a long time. It has the perfect blend of romance, comedy, and sexiness. It also has a smart and funny heroine who before and after meeting Mr. Wallbanger has a full life, complete with friends, family, interests of her own, and a career she loves and is great at.
This is a romance so there is no surprise that Caroline and Simon, aka Wallbanger, eventually get together but watching them come together was great. Even better, once they get together they still have issues to deal with, making this very much a grown up romance, and by that I mean the kind where romance is one part but not the whole part of one's life story. My one tiny complaint is that there are three girl friends who meets three boy friends and by the end there are three couples. That was a little too convenient, but that's a small quibble. This is definitely worth the read.