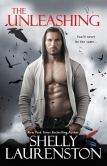 There is a beautiful man with six pack abs on the cover of
The Unleashing
. It is a beautiful cover but it is totally misleading because
The Unleashing
isn't about him. It's about Kera.
Kera was a marine who struggled to find her footing after leaving the marines. Her days largely consisted of serving customers at the diner she worked at, walking Brodie Hawaii, the pit bull that rescued her as much as she rescued it, and hanging out in her rundown apartment. She died trying to help a teenage girl who was getting beat up by her pimp in an alley behind the diner. After surviving two tours in the Middle East Kera couldn't believe she died in an alley. Even more unbelievable was having a viking goddess offer her a second chance at life as a Crow. The Crows are an all female clan of assassins for the Norse gods, or something like that. They kill when ordered by Odin or one of the other gods. In between killing sprees, the women can make of their new life anything they want it to be.
I picked up
The Unleashing
expecting a paranormal romance. Kera does find a lover and there are paranormal elements what with the Norse gods and all, but paranormal romance is not an adequate description. Kera spends a large part of the story trying to figure out how to live in her new life. As a Crow she is expected to kill. As a marine one might think that it wold be easy for her, but adjusting to life after the marines meant in part trying to get away from violence and death. Beyond learning to let her rage guide her per the Crow's motto, Kera has to figure out what to do with her life. Her Crow sisters have all kinds of jobs. The book is set in the Los Angeles area so most of them have jobs in or related to the entertainment industry. The point is each woman died and when given a second chance at life, decided to live their dream life. It is sometime before Kera figures out what her dreams are.
I liked this. The romance that develops between Kera and the viking who made it possible for her to get a second chance at life is sexy and fun. The fight scenes are action packed. Kera's attempts at finding her footing in her new life are interesting. All of this is set against a backdrop of something amiss in the supernatural world and it being up to the Crows to figure it out.
I believe
The Unleashing
is the first in a new series. I am not familiar with Laurenston's other series but after reading this I might give them a try. Of course, I'm looking forward to finding out what follows for Kera and her sister Crows.