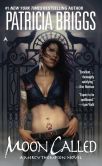 Mercedes "Mercy" Thompson is an interesting girl. She's smart. She can just as easily hot wire car as she can fix its engine. And oh yeah, she can shift into a coyote. She was raised by werewolves but being a coyote, was never part of the pack. Now an adult, Mercedes owns and runs a mechanic shop but her life involves much more than fixing engines. Her next door neighbor Adam is the local werewolf alpha. Stefan, one of her best customers, is a vampire and Zee, her former boss, is fae. When Mercy wakes up to find Adam's house a wreck and Adam badly injured, she immediately jumps in to help and quickly finds herself in the middle of something much bigger than she ever anticipated.
Moon Called
is the first in a paranormal series of books by Patricia Briggs. I had no idea what this book was about when I picked it up, other than that it involved werewolves, vampires, and other supernaturals. Upon first glance it reminded me of the Southern Vampire series. I missed the world Charlaine Harris created in that series - the romance, the battles, the mysteries, all of it. Mercy Thompson and
Moon Called
turned out to be a perfect read after finishing the Southern Vampire series. Mercy is smart, strong, loyal, and independent. She is not invincible but capable of holding her own. She refuses to be a pushover but doesn't pretend she can do everything herself. She was compelling and interesting. She's not alone. Mercy is surrounded by a host of well drawn characters, several of whom I suspect will become love interests for Mercy in future books. In addition to great characters there was action and adventure. In short, I really enjoyed this.
One of the pleasures of coming to an established series late is not having to wait a year or more before getting to read the next book. There are at least seven more books in this series that have already been published and my local library has most of them, which means happy reading for me. This is a series I'm looking forward to reading more of.